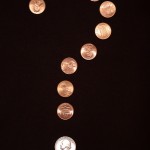 Over the past several years most companies impacted by the recessionary economy have dealt with the crisis by cutting back on employee reward programs, what with frozen salaries, minimal pay rises, shrunken incentives and even the elimination or reduction of 401(k) matching funds and other benefit provisions.  And of course there have been the layoffs.  So many layoffs.  Even today companies seem resistant to hiring new employees, to expand their business with additional headcount.  Unemployment levels seem stuck on high.
But it's not all gloom and doom.   With several sectors of the economy starting to show sputtering signs of life we've seen some elements of the shrunken workforce actually begin to push back from the period when they felt like replaceable commodities.  When they felt that they were lucky to have a job.  Some of those survivors are now asking when their employers would be reinstating the monies lost through those recessionary restrictions and cutbacks.  Their view is that if an employee's salary was frozen or if pay increases had been restricted in recent years, when the company begins to regain its financial strength management should acknowledge and recompense payback for the loss of income.  To put a figure on it, that might mean an additional 6% – 7% pay rise in 2013 to simply play catch up – and perhaps more.
Ain't gonna happen.
That ship has sailed.  As each fiscal year closes your company tallies up the figures, reports the results upward and to the Wall Street financial analysts and then they move on to the new year.  Case closed.  The recessionary years are in the past.  There is no going back.
Unfair?  Do you think that employees are owed those "lost" dollars?  Consider the question as a business problem.  The company cannot afford being burdened with additional fixed and recurring costs just as their operations are struggling to regain its competitive strength.  While they will likely strive to reward employee performance in a competitive fashion, as long as it's affordable given their financial posture, they will not revise their rewards program to pay for historical entitlement vs. current performance, or on the basis of whether or not they're doing well in a particular time period.
Ain't gonna happen.
Picture the scene in the Boardroom when the question comes up – if it even does – of returning to employees those increases that were not granted during the dark times.  How much would that cost, and how big a dent in future plans would be caused by the additional fixed expenses?  Management will consider that the tight fiscal measures put in place for Human Resources, as well as other functional areas, were necessary to get the company through a rough patch.  To keep even more employees from being laid off.  Now that better times are slowly returning it makes business sense to begin reducing those restrictions going forward or otherwise trying to return to normal operations.
The use of bonuses and merit increases will return to more normal levels this year, as will company matches for 401(k) contributions and other temporarily suspended activities. But they will not be made retroactive.  Companies need to look forward, not backward.
To add incremental, unbudgeted funds to reinstate missed salary increases from prior years is not going to happen, as management has its hands full bringing itself back to a healthy financial posture and preparing for the future.  Supplemental "make-up" compensation, especially in the form of fixed costs, is not viewed as a financially sound strategy.
So in case you're thinking of asking, have a care that you might already know the answer.  Your company has moved on, hopefully toward better times for everyone involved.